A digital twin is a digital representation of a physical object, process or service. These virtual replicas are ideal for making simulations and collecting data with which to predict how a process would work before changes are implemented on the real objects.
This is how these projects can be developed for replicas of objects, buildings, parks or entire cities.
In fact, digital twin projects have also been registered for NASA spacecraft.
Digital twin applied to industry.
Within the industry, there are many digital twin projects that have been successfully developed and have achieved good results. On this occasion we present you a digital twin project led and coordinated by Smartech Cluster, and funded with the support of ACCIÓ; it has been possible thanks to the great work done by the participating companies and associated entities: Innova IT S.L., Noumena, La Salle BCN, TECNALIA Research & Innovation, CT Solutions Group, Prosume Energy, Siemens, Loxone ES – Create Automation, MSI Studio.
'Digital Twin, Smart Building management for the post COVID-19 age'.
Project designed to improve the management and optimization of the use of the buildings.
The objective of this project was to build a virtual model of a pilot building, connecting it to the physical building and thus creating its digital twin. In this way, it was possible to improve its management and optimize its use based on simulations in different areas or scenarios. The possibility of gathering and processing all the information generated by the Smart building in a digital environment brought a large number of benefits.
(From https://smartechcluster.org/)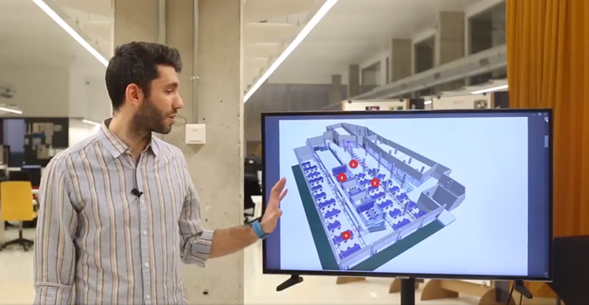 Artificial intelligence systems made it possible to prevent unexpected failures and improve the building's operation, resulting in a clear reduction in costs. In addition, this digital twin helps in improving operations by providing real-time information from all the systems integrated in the intelligent building. This factor facilitates the tracking of assets and people in their workplaces and provides greater visibility into building management operations.
In terms of safety, this project facilitated the anticipation of safety issues and the mitigation of risks that may arise, thanks to simulations that assist building managers.
If you are looking for a Digital Twin project in Innova IT we are ready to help you.
Did you like this article?
Receive new articles about technology and industry trends, and Industry 4.0 in your email weekly.
Subscribe to our newsletter
---
If you would like more information or have questions or ideas you would like to share with Innova IT: send us a message to comercial@innovait.cat or fill out the form below and we will get back to you as soon as possible.
For something more specific and concrete, make an appointment and visit us at our premises.