The concept 'Industry 4.0' was first mentioned at the Hannover Fair (a trade fair dedicated to industrial technology); and 11 years later it is a widely recognised term that has directly impacted the digital development of companies. On this occasion we will explain how Industry 4.0 has evolved and which current industry solutions are in line with it.
The first time the concept of Industry 4.0 was mentioned was with the intention of launching a project that would carry out the conception and development of the smart factory associated with the fourth industrial revolution. A vision of computerised manufacturing with all its processes interconnected with each other using the Internet of Things (IoT).
Today this is a reality applicable to many companies and has achieved a continuous evolution that has led to the development of new industry solutions.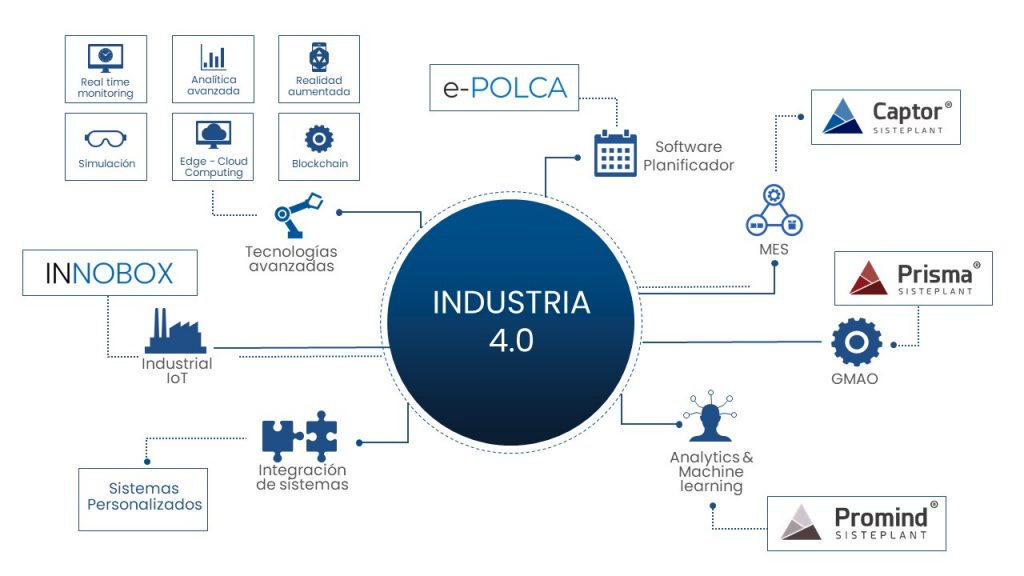 Industrial IoT
From the idea of having IoT was born the Industrial IoT (Industrial Internet of Things). Which refers to sensors, instruments and other devices networked together with industrial computer applications.
This is the origin of tools such as Innobox, which simplifies the capture, analysis and exploitation of data from industrial machines, both at the machine and remotely, in an easy and non-intrusive way with the control devices.
Planning Software
With I4.0, complex factory environments began to emerge and planning became a necessary tool within digitalisation.
This is how tools such as e-POLCA came about, a solution that serves as a planning software or flow regulator that manages to reduce production times by constantly detecting and raising the bottlenecks of the production plant, always achieving the minimum MLT (Manufacturing Lead Time) and without management (no control, no planning, no support).
MES-Manufacturing Execution System
Manufacturing execution systems are computerised systems used in manufacturing to track and document the transformation of raw materials into finished products, essentially intelligent solutions for production management.
Since it became necessary for companies with production, tools such as CAPTOR were created, capable of providing this solution while adapting to the needs of any type of company, contributing technological intelligence to decision-making in the plant or multiplant.

CMMS – Computer aided maintenance management
Another need that arose was for a software solution that would help in the management of the company's maintenance services; this is how tools such as PRISMA came about, which provides maintenance solutions that are modular and 100% adapted to the needs of any type of client.
Analytics & Machine learning
Necessary for the detection and optimisation of data sources along the organisation's information chain.
Among the tools that help in this process is PROMIND. It supports the integration, standardisation and subsequent exploitation of data through advanced analytics between different information platforms, allowing organisations to digitise and optimise in an efficient and organic way.
Advanced technologies 
In addition to all the tools mentioned above, there are also several solutions that bring improvements in the company through digitisation; they are new intelligent technologies that will be integrated not only to organisations, but also to people and assets. Among these technologies are: Real time monitoring, Advanced Analytics, Augmented Reality, Simulation, Edge – Cloud, Computing, Blockchain, among others.
Systems integration
If talking about all the tools we have is not enough, we have this latest solution that achieves integrations between the different processes and sectors of the factories.
It allows to optimise the exchange of information in a faster and more efficient way; this facilitates the transparency and coherence of information within the organisation, increasing productivity and decreasing losses to obtain a real optimisation of resources. 
The best solutions on offer at I4.0
These solutions are aimed at helping with specific business needs to achieve improved productivity.
To obtain these industry solutions, there are companies such as Innova IT, a technological partner that offers all these solutions with a personalised service.
Did you like this article?
Receive new articles about technology and industry trends, and Industry 4.0 in your email weekly.
Subscribe to our newsletter
---
If you would like more information or have questions or ideas you would like to share with Innova IT: send us a message to comercial@innovait.cat or fill out the form below and we will get back to you as soon as possible.
For something more specific and concrete, make an appointment and visit us at our premises.