IIoT solution in the automotion sector. Solution for the online analysis of a stamping machine. As a result, the reduction of operational and maintenance costs was achieved.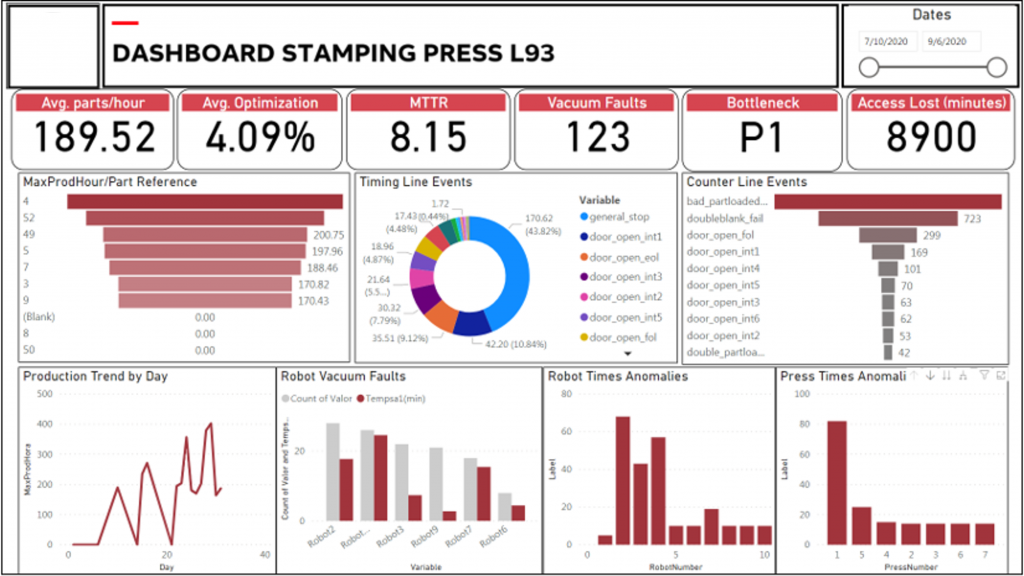 More applicable solutions for companies in industrial sectors
CHALLENGES
Increase the productivity times of the press line (40%).
Implement a non-intrusive system with the PLC line, but that allows to analyse and know the behaviour of the line, in the context of: (Productivity, Performance, Quality, Alarms / Events).
Multi-user and friendly system with different user profiles.
Secure external connectivity.
Development
Integration of data from the PLC in charge of controlling the press line. OPC UA.
Data normalisation and historification.
Data processing, analysis and calculation of KPIs.
Dashboard design with the most significant KPI's.
Definition of permission rules for different user profiles.
Results after applying IIoT solution for the online analysis of a stamping machine
Productivity improvement 25%.
Reduction of operational and maintenance costs.
Did you like this article?
Receive new articles about technology and industry trends, and Industry 4.0 in your email weekly.
Subscribe to our newsletter
---
If you would like more information or have questions or ideas you would like to share with Innova IT: send us a message to comercial@innovait.cat or fill out the form below and we will get back to you as soon as possible.
For something more specific and concrete, make an appointment and visit us at our premises.